Donna and her son Noah joined a VoluntEars trip to Nepal. Below, Donna describes what it was like travelling and volunteering together. 
"This summer my son, Noah who is 14, and I went to Nepal for two weeks with VoluntEars. We helped to do light renovations and paint the staff room at a Deaf school in Pokhara, did many activities with the local students and also trekked for 3 days in the Himalayan mountains. We had the most amazing time. 
VoluntEars is an organisation that arranges overseas trips for D/deaf, hard-of-hearing and hearing people. Our group was made up of 10 volunteers, a BSL interpreter and Richard Clowes, the trip leader and Director of VoluntEars. All of the group were either Deaf, deaf or had something to do with deafness. The age range was 14 to 55 on our trip. 
One of my worries (because I have an awful sense of direction) was that I didn't want to be in a far away country alone with my son as my husband was staying home. Before we booked onto the trip I spoke to Richard about this and he said that most of the time the group stay together and when there is free time people tend to break into smaller groups and that is exactly what happened. I would like to say that Noah has an excellent sense of direction and was able to navigate the streets of Kathmandu. On the last night Richard asked Noah if he could remember where the restaurant was that we went to on the first night (down busy, dark, narrow windy streets). Noah said he did so Richard asked him to lead the group there – Noah got us to the exact spot! 
Once you pay for the VoluntEars trip and the flights there are no extra compulsory costs involved. All the food, accommodation and safe drinking water is included in the trip price, so is local transportation and all the trips to see temples, the trek etc so you really do not need much spending money. 
I took more clothes than recommended which I regret because it was easy to get clothes washed and dried for a small cost. We took spending money with us and bought snacks, soft drinks, some memorabilia and a post-trek leg massage which I would thoroughly recommend. It was Noah's first massage and he loved it! (We did this in our free time and paid for it ourselves, some of the group also paid to go paragliding).
The trek was tough but worth it. We got up at 03.30am one morning and climbed 1,000 steps to see the sun rise at Poon Hill. As it was Monsoon season we sometimes trekked in the rain as well as the heat. We had plenty of stops and hot sweet lemon drinks and sweet tea were provided as well as fires to dry and warm us (we took our own extra snacks). We left our luggage at the hotel and porters carried our sleeping bags and spare clothes. We just carried our day bags. Whilst I huffed and puffed up the mountain in walking boots, the porters (carrying the heavy stuff) practically skipped up in plimsoles with no socks or flip-flops! There are leeches [in summer] and that's where your mosquito repellent comes in handy, they don't like it so you spray your extremities and at every stop you check each other and pull them off.
The food is good and mainly vegetarian curries and a particular favourite of the whole group 'momos' (a kind of dumpling). VoluntEars ordered most of the food which worked well because it meant we all got to share and try a wide variety. We either ate in restaurants or the hotels; the food was good and no one was ill. 
The hotels were clean and the staff were very welcoming. 
We went with an open mind and a keenness to enjoy the experience, go with the flow. Our group gelled really well and for me I had the opportunity to watch Noah interact from a distance rather than be glued to him. I am obviously responsible for him but he had 2 weeks of being quite independent. He got to know the people in the bureau de change, local shop and launderette and went by himself, he also started taking and collecting other people's laundry. On the trek everyone walked and chatted with whoever was closet. We all kind of mingled continuously. I can't tell you how proud I feel of Noah. I was able to see his strengths and observe his achievements. When we got back to England Noah helped me and his dad (also called Richard) paint the living room with Noah passing on the tips he learnt from VoluntEars in Nepal. 
Noah is oral, he does sign a bit, but during the 2 weeks it was lovely to see his sign and confidence improve and to watch him communicate with oral and signing people so easily as well as participating in a Nepalese sign language class and stand up in front of the class for a test! We had a young lad on our trip (also deafened by Meningitis) who was a brilliant mentor and role model for Noah which confirmed for me the importance of having access to people just like you, especially someone older to look up to. This is something CICS provides. 
Traffic in Nepal is mad! But you never see any road rage. The bus journey from Kathmandu to Pokhara was only 100 miles but it took 7 hours!  We had lots of stops for toilet breaks and a cooked lunch was provided at one of the stops. Noah gets bored easily but he was not bored for a second during the journey as there is so much to see. If it took us all day to do 100 miles in England we would be stressed out! But that particular journey was very interesting and no technology! 
Richard Clowes, the VoluntEars Director, is the most patient person you will ever meet. He is encouraging and checks in with everyone all of the time. He has run the trips many times and researches and actually prepares everything himself before launching the trips. So you can be assured the trips are planned in the very best way. 
Both Noah and I had a fabulous time. He is really proud of his achievements as I am I (of his and mine) ,we had fun with the students at the Deaf school. It was heartwarming to see them happy and capable. We are very fortunate to have the technology and services that we have and I wouldn't change it (apart from improving the delivery of services etc but that's a discussion for another day), as is the one about whether they are better or worse off, my view in a nutshell is it's just different and I'm not sure if imposing our values is the answer. The volunteering we did I don't think was imposing; we did a job that the teachers could have done in their free time or the school could have paid to have done but instead we did it for free and we got to experience a different life. They could not have been more warm and welcoming. The students were as keen to teach us as they were to participate in the activities that we led. So there was definitely an exchange of knowledge. 
Noah's school knew we were doing the VoluntEars trip and asked Noah to do a presentation at school about it afterwards.  He did the presentation to about 20 students and 5 staff members. His deputy head emailed me to let me know Noah did really well and he was proud of him. Noah was very nervous and said he didn't want to do it but now having done it he is really pleased with himself. 
All in all the trip was not only enjoyable, Noah challenged himself and excelled, prepared and delivered a presentation. I would thoroughly recommend a VoluntEars trip to families, singles and especially the young adults who might be looking for a first time abroad to enjoy and do something meaningful with an organisation that is geared up for D/deaf people and if you are someone that is mainstream and oral it's a chance to meet people both from the UK and abroad who have walked a different pathway.
VoluntEars can also arrange for you to help as a teaching assistant at the Deaf school for a couple of weeks once the 2 Week Group Trip is over. Definitely go to the pre-trip presentation in Brighton because you get to meet the people you will be travelling with, we met a Deaf lady who travelled with us, preferring that to airport assistance. By the time the three of us arrived in Nepal we were friends and Noah found himself in an interpreting role and she was an excellent and patient BSL teacher. 
Both Noah and I would do the Nepal trip again but we would like to go on one of the other trips to either Sri Lanka, Ghana or Thailand next time."
If you're interested in joining a trip like this one, read more here: Nepal 2 Week Group Trip.
Got a question? Contact us now!

"I had the opportunity to help fellow D/deaf people"
Tom Gerrard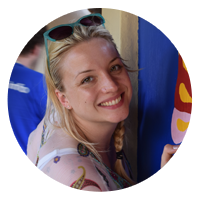 "The best thing I've done in years"
Blanche Coy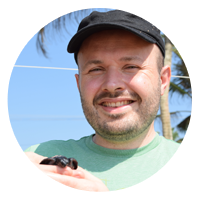 "Valuable, memorable, fun, productive, amazing!" 
David Hutchinson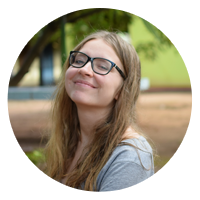 "A specialised organisation that guarantees the right support - all my worries vanished"
Karolina Pakenaite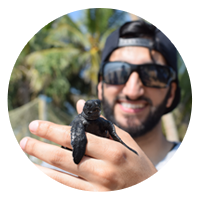 "Working with turtles was the best thing!"
Omar Mahmood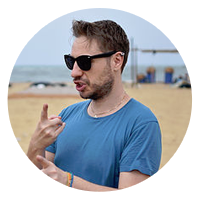 "Enlightening, rewarding, motivating, amazing"
Keegan Hall-Browne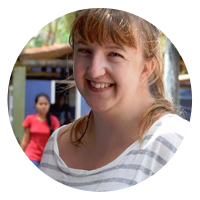 "I grew in confidence and enjoyed helping people"
Jodie Winter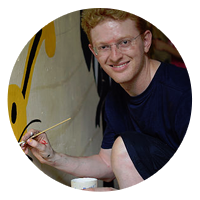 "I really enjoyed designing and painting the wall mural in one of the classrooms. It was a fantastic experience."
Stephan Pretorius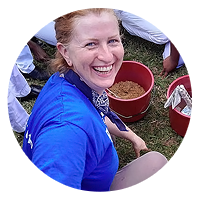 "An enriching and fulfilling experience with an opportunity to embrace Sri Lanka's way of life and culture"
Katherine O'Grady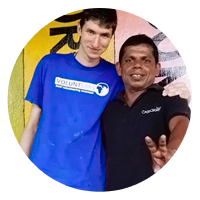 "It's changed my way of thinking and seeing things. Join today because it's brilliant! It's a once in a lifetime opportunity"
Ashley Hill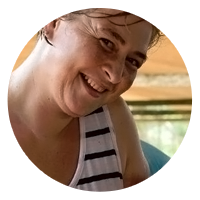 "There was an equal balance of work, group activities and sightseeing"
Clair Murray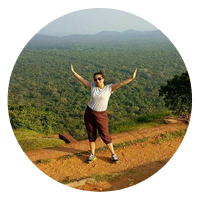 "I knew this was a perfect opportunity"
Saira Shabbir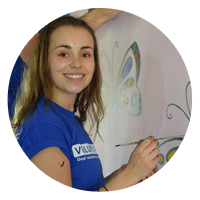 "I made new friends and was able to use my sign language skills"
Stephanie Denison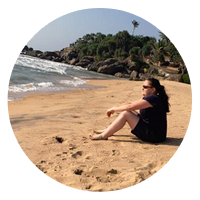 "I can't fault VoluntEars - they run everything smoothly from beginning to end"
Kimberley Bruce