Full update  |  Mary Hare School Nepal Tailor-made Group Trip  |  July 2017
This year we introduced our Tailor-made Group Trips. These trips are arranged especially for school or university groups, or a group of friends or colleagues who want a bespoke trip arranging just for them. The idea is for groups to tell us exactly what they want and we'll arrange it for their chosen dates, for their chosen duration in any of our destinations.
We were delighted our first Tailor-made Group Trip was for 16 students and 5 staff from Mary Hare School. We welcomed them to Nepal for a 3 week trip in July 2017. Here's how it went!
Arriving in Kathmandu
After a long flight to the other side of the world, you want to be sure you'll be met when you walk out of the airport! After everyone was presented with traditional flowery garlands for good luck we checked all bags had arrived safely and then everyone was taken back to the hotel in Kathmandu in our private minibuses. The journey only took 30 minutes but it was a chance for everyone to get their first glimpse of Nepal.

First day in Nepal
Our first full day started with the orientation which covered all aspects of safety, local culture and our plans for the next 3 weeks. This was done in the relaxed surroundings of a hotel garden in Kathmandu. We also tried Nepalese thali for lunch – a meal of rice served with several different curries, pickles and poppadums. Everyone enjoyed it except for desert which was like green rice pudding with perfume!
Exploring Kathmandu
We explored the Thamel district of Kathmandu. There's an amazing mix of hotels, cafes, restaurants, trekking & souvenir shops. It's a fascinating place to wander around and staff and students used the opportunity to test their haggling skills with local shop keepers on all sorts of items from walking poles and t-shirts to wood carved elephants.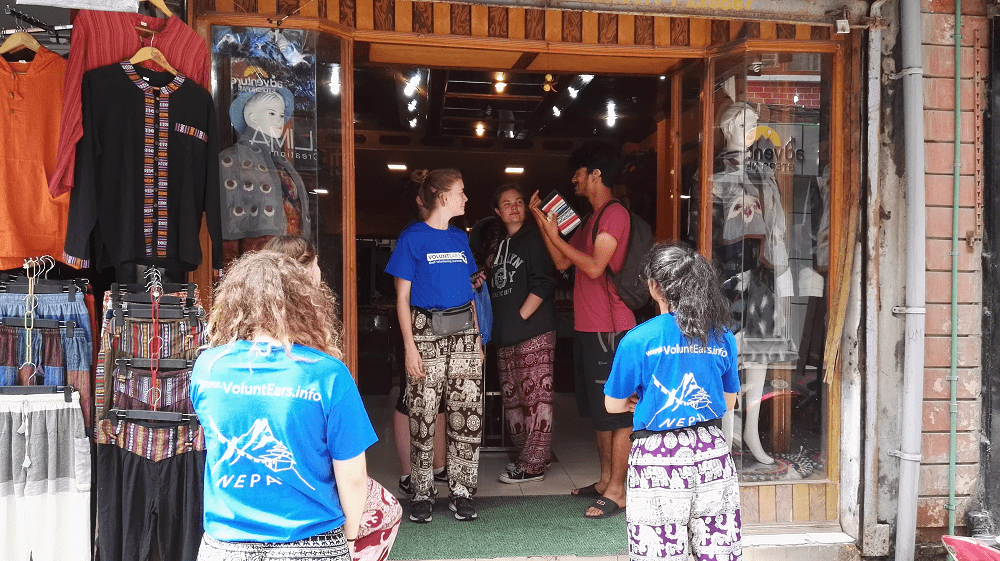 Monkey temple
Different activities and visits were arranged by VoluntEars for every afternoon. One of the highlights was visiting Swayambhunath (the Monkey Temple) which is one of Kathmandu's most famous landmarks. It's made all the more worthwhile after climbing up all the steps to get there! Kathmandu is 1,400m above sea level and the steps are quite steep towards the top so it was a good test of fitness before starting the trek in week 2!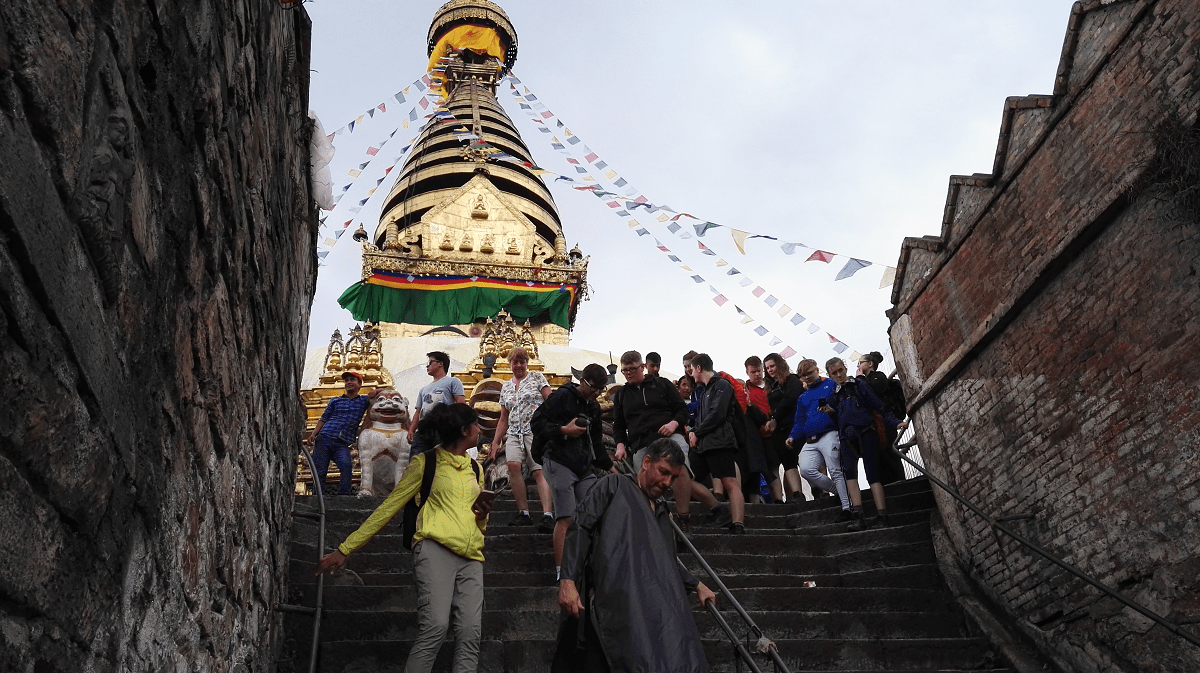 Cooking class
OK, so we know that not everyone is really into cooking but food is an important part of visiting new countries. Local ingredients tell us about the country's landscape and weather and the way food's prepared tells us about local traditions, customs and tastes. So…we ran a cooking class with some local ladies who showed everyone how to make a range of Nepalese food including dhal baht (lentil curry) which is eaten every day.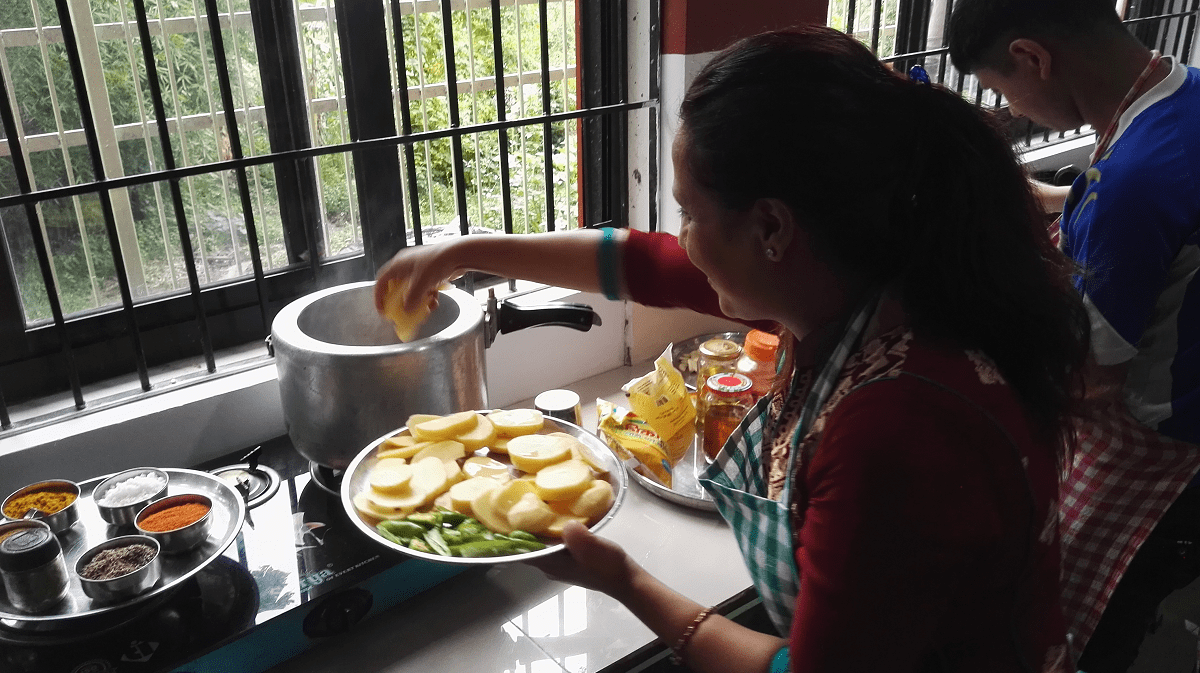 Origami
Yes, we know that origami is Japanese, not Nepalese, but our local contacts include all sorts of people including a Japanese man who teaches origami in Kathmandu. Random! How did it go? All we're going to say is that there was a lot of laughter, a lot of helping each other and everyone was better than the VoluntEars staff who finished with a crumpled sheet of paper folded in all the wrong places!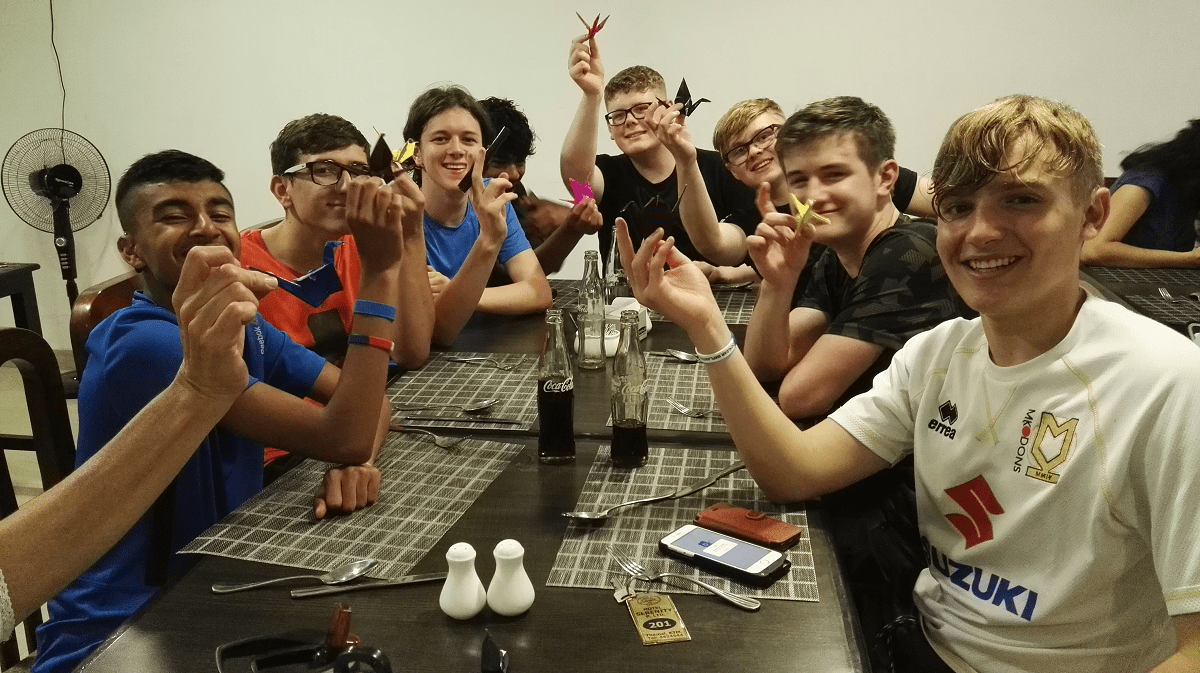 Renovations at a Deaf school in Kathmandu
Our mornings at the Deaf school in Kathmandu were very productive. Our task was to redecorate a boys dormitory where 16 local deaf students live. The dormitory was very dark and gloomy when we started. It looked even worse after the 1st day of scraping and sanding! Things quickly improved after we'd repaired cracks in the walls and finished the 1st coat of paint. By the end it was lovely and bright and the local deaf students were excited to move back in. It's amazing how fast 21 people can decorate a huge dormitory! Well done everyone.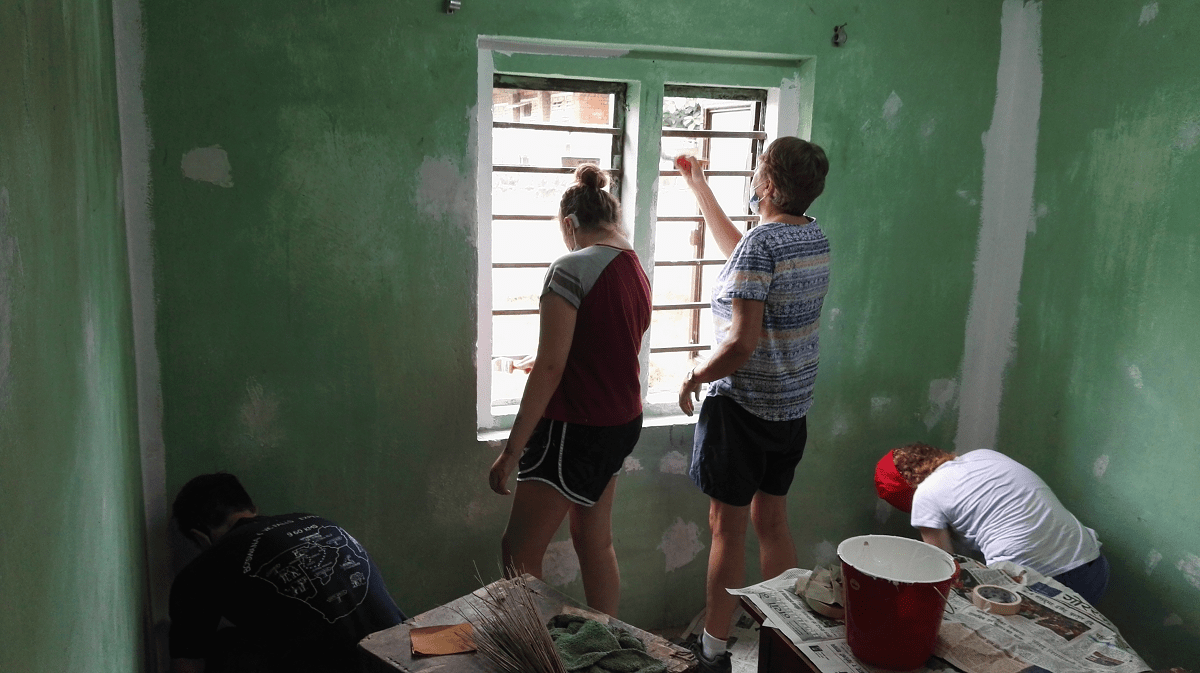 Trekking in the Himalayas
The most anticipated week of the trip was the 7 days trekking in the Himalayan mountains. There was a mixture of excitement and nerves the night before we started. Some of the key points for enjoying a trek are having the correct kit, keeping the group together to ensure safety at all times and having expert guides and porters to help. Dan and his trekking team assisted everyone up into the mountains where we were in awe of huge waterfalls, clung tightly to narrow rope bridges crossing high above roaring rivers and enjoyed huge bowls of noodle soup with Tibetan flat bread to fuel our journey.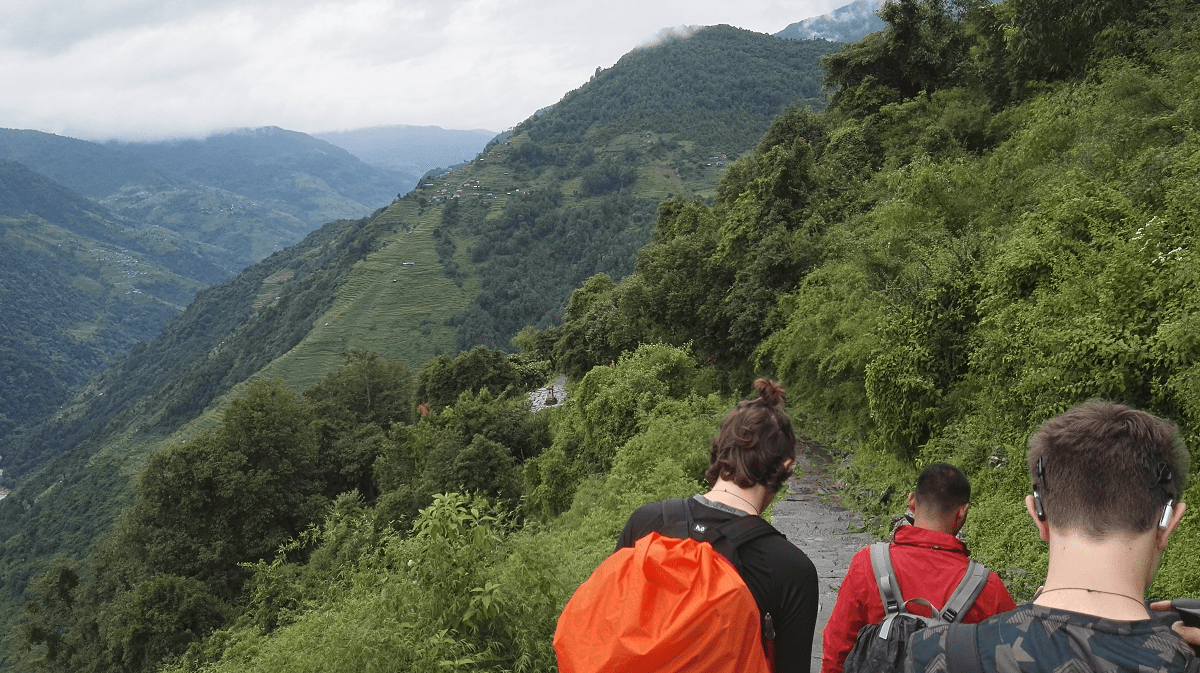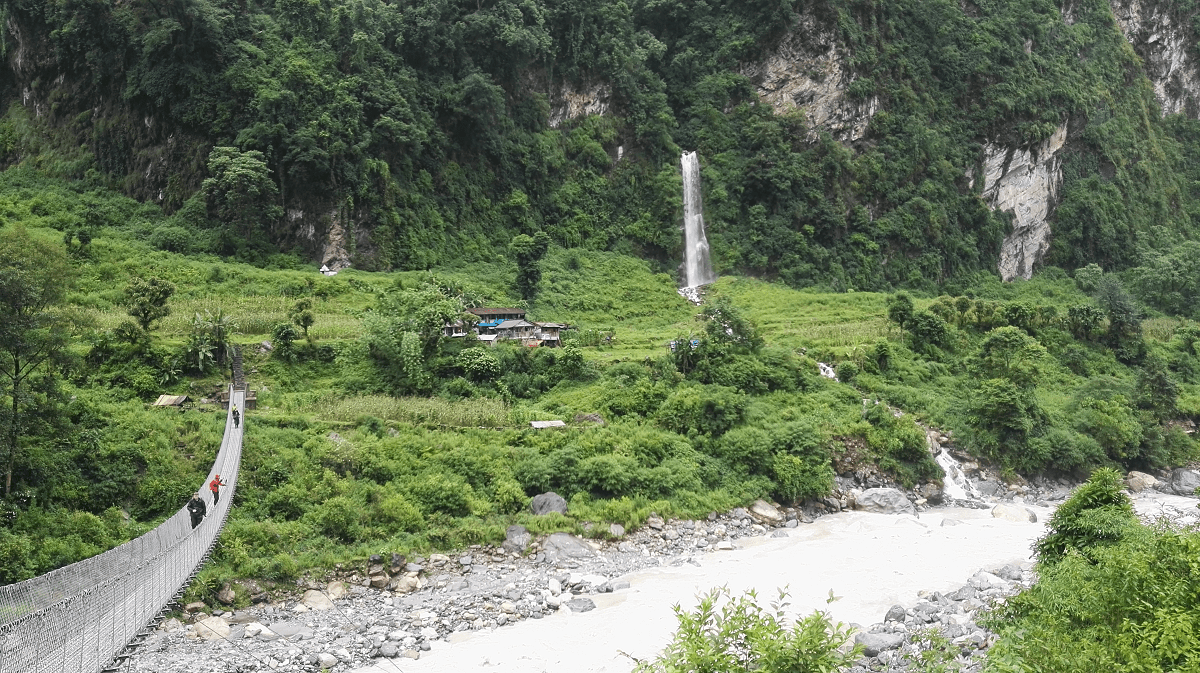 The highlight? It's got to be the view of Annapurna South and Machapuchare from the top of Poon Hill at 3,210m, photo below.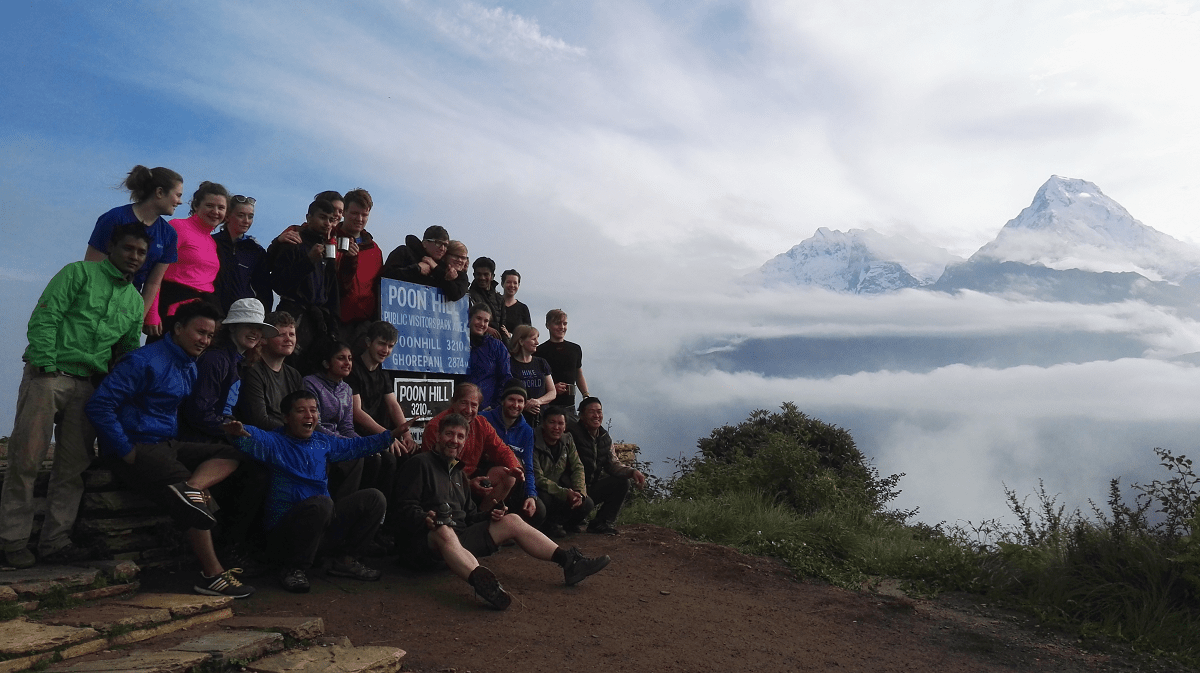 Volunteering at a Deaf school in Pokhara
What did we do after 7 days of trekking in the Himalayas? The first thing was we enjoyed some well-earned time off! Everyone mooched around the shops and relaxed in cafes along the side of Pokhara's beautiful lake.
Then the 3rd week was spent helping at another Deaf school near Pokhara. Every morning we did a variety of activities with the local deaf students. From all the noise and excitement it was hard to tell who enjoyed it the most! Activities ranged from playing dodgeball (UK vs Nepal!), to dividing into small groups and building the tallest tower using only 6 sheets of newspaper & cellotape, and painting henna tattoos and learning Carroms. We learnt a lot about Nepalese culture and students of both nationalities gained huge confidence by communicating with each other using sign language.
Cultural activities
As well as visiting the famous World Peace Pagoda near Pokhara (and just missing a huge rain storm as the sky turned black!), we like to arrange activities and visits which aren't available to normal tourists. For example, VoluntEars arranged meeting local women who have suffered domestic abuse and who have now been empowered by a small local cooperative to make beautiful woven bags which are exported around the world. The money they raise helps them earn an independent living. Some volunteers tried using the traditional weaving looms which was much harder than it looks! We also arranged a Nepali Sign Language class with a Deaf Nepali teacher to help communication at school.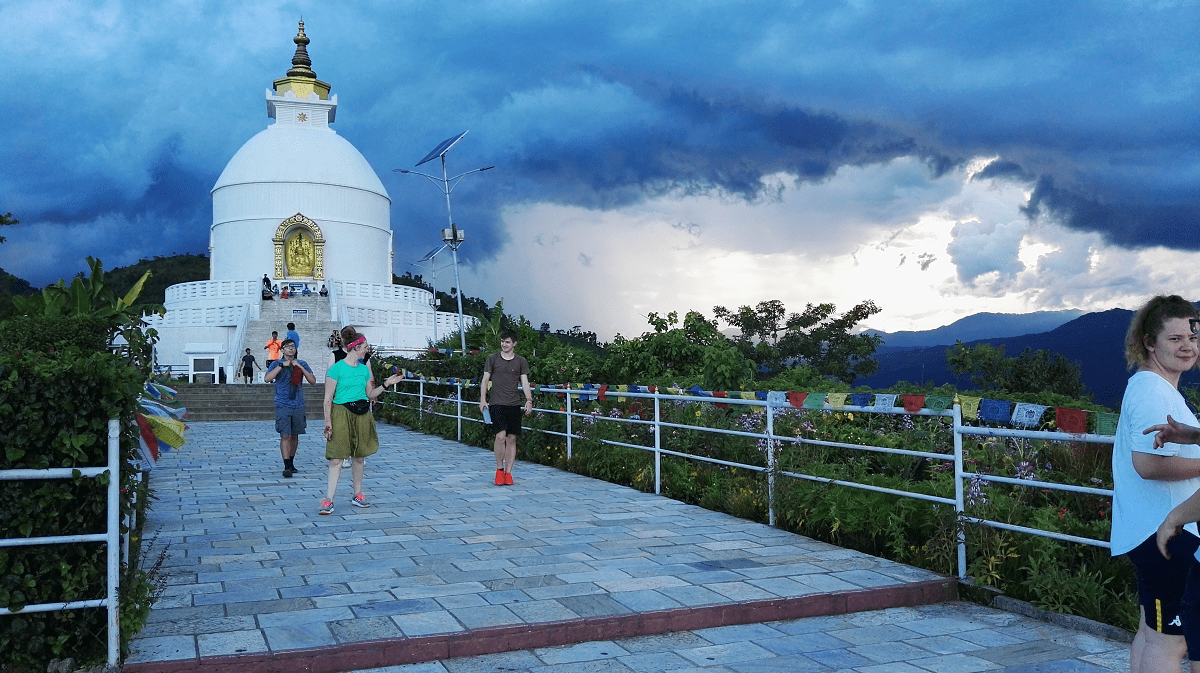 What's next for Mary Hare School?
We are delighted to announce that Mary Hare School have now booked a trip to Sri Lanka with VoluntEars in July 2018. They will help at a Deaf school in Sri Lanka and work with sea turtles and elephants, explore beaches, mountains and tea plantations!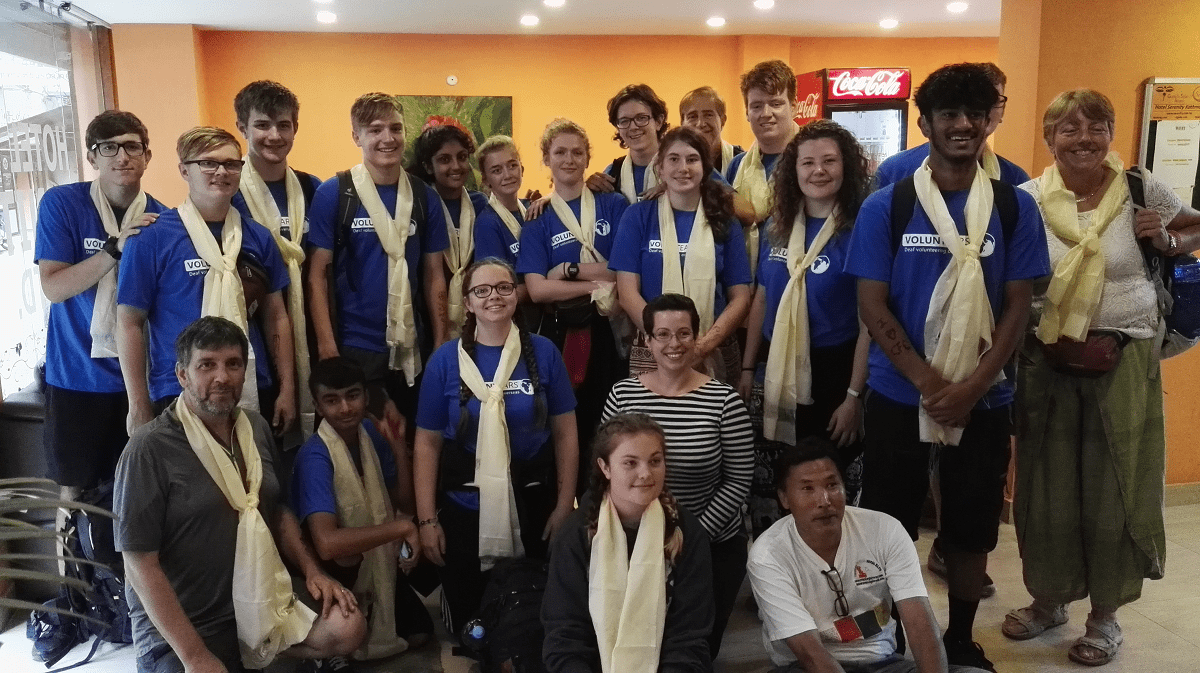 More information
Read more about our Tailor-made Group Trips or Contact Us if you want to discuss a trip for your school, university or group.
We are happy to visit if you want to talk face-to-face.

"I had the opportunity to help fellow D/deaf people"
Tom Gerrard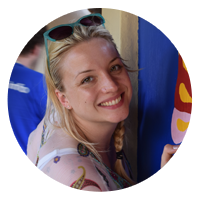 "The best thing I've done in years"
Blanche Coy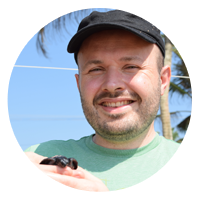 "Valuable, memorable, fun, productive, amazing!" 
David Hutchinson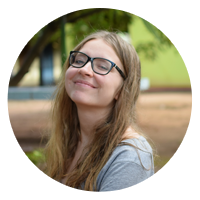 "A specialised organisation that guarantees the right support - all my worries vanished"
Karolina Pakenaite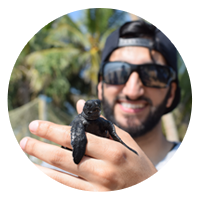 "Working with turtles was the best thing!"
Omar Mahmood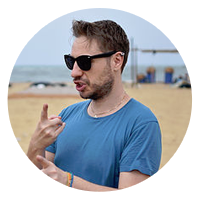 "Enlightening, rewarding, motivating, amazing"
Keegan Hall-Browne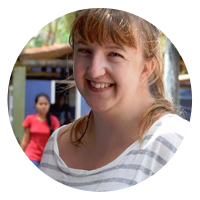 "I grew in confidence and enjoyed helping people"
Jodie Winter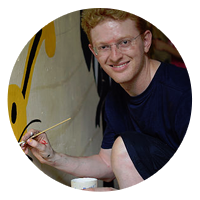 "I really enjoyed designing and painting the wall mural in one of the classrooms. It was a fantastic experience."
Stephan Pretorius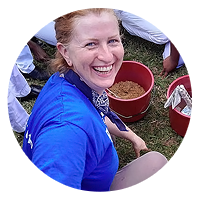 "An enriching and fulfilling experience with an opportunity to embrace Sri Lanka's way of life and culture"
Katherine O'Grady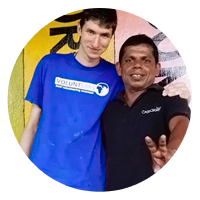 "It's changed my way of thinking and seeing things. Join today because it's brilliant! It's a once in a lifetime opportunity"
Ashley Hill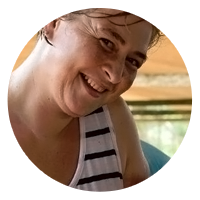 "There was an equal balance of work, group activities and sightseeing"
Clair Murray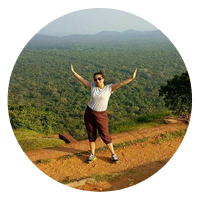 "I knew this was a perfect opportunity"
Saira Shabbir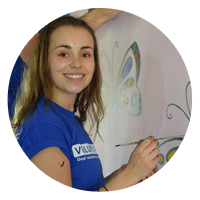 "I made new friends and was able to use my sign language skills"
Stephanie Denison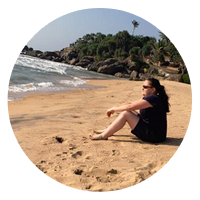 "I can't fault VoluntEars - they run everything smoothly from beginning to end"
Kimberley Bruce