"My volunteering dream – made possible by VoluntEars" – Keegan Hall-Browne's blog, Sri Lanka 2015-16
Keegan wrote the following blog before and during his Sri Lanka trip with VoluntEars in December 2015 & January 2016. Keegan says: "I hope on some level you find it an interesting read. If nothing else it tells a story of the inspiration that I found from the trip. Inspiration is never a bad thing and VoluntEars provided me with the opportunity to feel it." 
Keegan's blog:
Ready:
In the beginning comes the discovery: VoluntEars is there! A seed is planted and investigations begin.
Communication begins with Richard Clowes [VoluntEars Director] and continues frantically over several months, the seed begins to germinate and the dream appears to be a possibility.
Life grows through changes. I wake up one day and decide to resign, a challenge and new pathways need to be forged. Further food for growth comes in the form of a coffee and chat one sunny afternoon with the facilitator of the dream Mr Clowes himself.
Over the next month the light shines upon the seed and the decision to burst the dream-cloud and ground it in reality comes with paying the deposit. The growth of the first shoots is seen.
Steady:
As with all growth and adventures there are growing pains and stones to roll away. Finer details of the dream through paperwork, costings, financing and planning. Doubts and risks become part of the conversation and thoughts. But then there is the light of the day and the glow from your friends and family's awe along with the droplets of dream-cloud rain reminding you of the journey's end.
Through Gofundme the shoots begin to thrive and are nourished by kind words of support, praise and thanksgiving charity. The food of love and gold and silver help build the pathway towards the skies above.
Go!:
With the stones rolled away, the shoots break free, and the daylight of the skies above shines down. The monies are paid, the papers signed and the foraging for the last minute supplies begin – must not forget the torch and the mosqito spray.
The sun sets on the eve of the day – that the rising of which will begin the opening of the flower upon which the dream is laid. The bags are packed, the final checks are made, merry farewells and a short excitable sleep precede the flights that will carry your flowerhead of dreams to its long awaited fertile new ground in the hot, shining, welcoming and inspiring new world that is Sri Lanka. From here on in the peoples of this land and the bunch of other fresh flora who took flight with you will tend to your bouquet of blossom as you begin to spread your new seeds together and leave a lasting piece of you in this reality where dreams come true.
Blog
Status 1:
"My own donations will keep coming as I am able to add to the pot!"
Status 2:
"To all my family and friends; I am so excited to be doing this. I won't be in the UK this Christmas or NYE or my birthday but you will all be in my hearts. I won't be able to buy presents for those I do usually and don't expect any in return. But if you can gift me something towards this chance of a life time that will be the best gift you could ever give and will have ripples across the world. Thank you all."
Status 3:
"First leg done! Deposit paid – visa next and then flights. It is all quite amazing thanks for donations so far! Vaccinations must be sorted at some point too. Will try to organise some fun events to help me raise and you to celebrate (say your farewells) too. Any ideas greatly appreciated."
Status 4:
"That's it, it's happening!! Flights booked!!!! So excited. Thanks to those who have contributed and shared my page!!!! Still thinking of an event to run!!!"
Status 5:
"Wow I'm so touched by everyone's generosity I really am. Together I've reached the first thousand. Thanks so much. Tickets booked, jabs done, visa sent, brand new passport to mark a brand new start and a brand new year. Just 36 days to go!"
Status 6:
"Off to Brighton next week for full briefing. So inspired and want to thank VoluntEars and all my family/friends for supporting me so positively with my decisions and with your kind donations."
Status 7:
"Wow!!! 25 more days to go and Sri Lanka here I come!!!!!"
Status 8:
"Super excited! Pre-departure briefing done and feel even more inspired, met some of my group too. Thanks to all those helping me to make this happen."
Status 9:
"20 days exactly and I will be there. Turtle conservation on Christmas day amongst other vital voluntary work!!! Bring it on."
Status 10:
"15 more days until the dream begins! Cannot wait and just want to thank everyone who has helped me get there!!! Will think of you all over Christmas and New Year!!"
Status 11:
"So exciting, almost half of my total raised thanks everyone. 10 more days and the dream will begin."
Status 12:
"This time next week I will be in the air and the dream would have begun. It is so close now I can hardly believe it is true. Soooo excited!!!"
Status 13:
"6 more days people!!!! Thanks again for all your support both financially but just as much for the lovely comments and well wishes."
Status 14:
"1 more sleep and an awfully early wake up call at 5am!!! But I can't wait."
Status 15:
"And we are off!! (Well soon, 2 hour delay first!) Lol"
Status 16:
"So we have arrived and have begun the restoration work. The children here are really engaged with us and excited to communicate it's brilliant!"
Status 17:
"Turtles here we come!! HAPPY CHRISTMAS EVERYONE AND TO EVERYONE A MERRY TIME!"
Status 18:
"A day scrubbing and cleaning the turtles. They were adorable. Let's hope the little bit we did helps conserve these beautiful creatures. One final Happy Christmas to one and all."
Status 19:
"Wow this is satisfying work sometimes! Would love to see the the kiddies reaction when school returns!!"
Status 20:
"A very reflective and cultural day visiting an ancient Buddhist temple upon a very peaceful heritage site and the largest Buddha statue in Sri Lanka."
Status 21:
"Wow well what an amazing birthday and new year's eve here in Sri Lanka. And a very special first project comes to an end. Time to say bye to all the group today as they fly back to the UK and for me to move to school 2 and go it alone as a teacher instead of renovator. Thanks for all the birthday wishes and Happy New Year one and all, be seeing you sometime in 2016!!!!"
Status 22:
"3 days into teaching at my second Deaf school and I love being a teacher again! These children are an inspiration and teaching feels fun again."
Status 23:
"Oh my lord!!! Have only taught here for one week, got called into principal ' s office for an hour and half this afternoon. Now I have been signed up to do whole staff training session on Monday and two observed demonstration lessons next week for the staff!!!! What have I let myself in for???"
Status 24:
"Leading whole staff training of Sri Lankan teachers of the deaf at Ratmalana Special school for deaf children was a hoot and I feel so honoured to have been asked."
Status 25:
"3 observed lessons down including principal and her staff! Feeling justifiably exhausted but very motivated and inspired by it all."
Status 26:
"And so the final day of my epic adventure and dream come true has ended! Today saw me gain my first experience of teaching secondary aged deaf children with swift changing classes of English and yet more training of staff was asked of me by Madam (the Principal). This truly has been a splendid day of firsts and I enjoyed every minute of it. Thanks to all of your who contributed towards the funds to make it happen."
Status 27:
"And so, as with all good things, my dream here in Sri Lanka comes to an end! It has been an amazing time with many personal accomplishments and such special memories. I will miss this stunning country and it's lovely people greatly. But this is not the end but only a beginning!"
Note from VoluntEars
Keegan joined us for a 2 Week Group Trip followed by a 2 Week Teaching Add-on in Sri Lanka.
Got a question? Contact us now!

"I had the opportunity to help fellow D/deaf people"
Tom Gerrard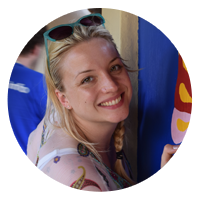 "The best thing I've done in years"
Blanche Coy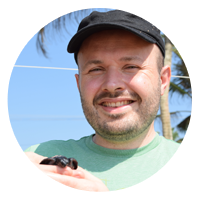 "Valuable, memorable, fun, productive, amazing!" 
David Hutchinson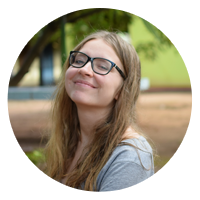 "A specialised organisation that guarantees the right support - all my worries vanished"
Karolina Pakenaite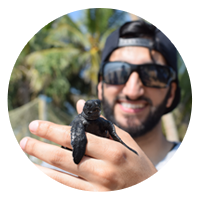 "Working with turtles was the best thing!"
Omar Mahmood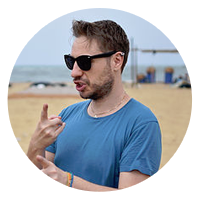 "Enlightening, rewarding, motivating, amazing"
Keegan Hall-Browne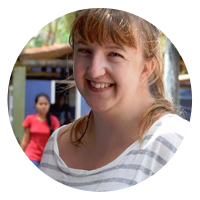 "I grew in confidence and enjoyed helping people"
Jodie Winter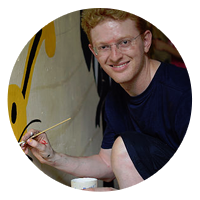 "I really enjoyed designing and painting the wall mural in one of the classrooms. It was a fantastic experience."
Stephan Pretorius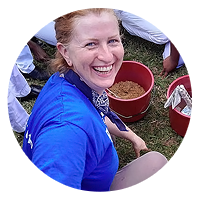 "An enriching and fulfilling experience with an opportunity to embrace Sri Lanka's way of life and culture"
Katherine O'Grady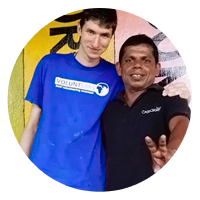 "It's changed my way of thinking and seeing things. Join today because it's brilliant! It's a once in a lifetime opportunity"
Ashley Hill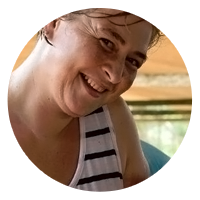 "There was an equal balance of work, group activities and sightseeing"
Clair Murray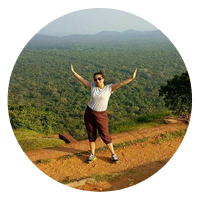 "I knew this was a perfect opportunity"
Saira Shabbir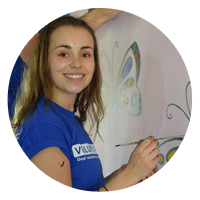 "I made new friends and was able to use my sign language skills"
Stephanie Denison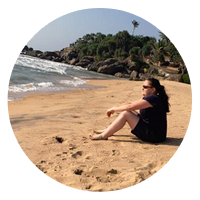 "I can't fault VoluntEars - they run everything smoothly from beginning to end"
Kimberley Bruce