Morocco, meaning "place the sun sets" is located in north Africa. It overlooks the Mediterranean Sea to the north and the Atlantic ocean to the west while further south you'll find the dramatic Atlas mountains and huge Sahara desert.
Spoken languages include Arabic, Berber and French and, while Moroccan sign language is quite different to BSL, you can have fun conversations using BSL, MSL and any spoken French and English you know!
Only a 3 hour flight from the UK, with 1 hour time difference Marrakesh makes a great destination for a short trip.
Our 4 day trip to Morocco includes a mix of exploring colourful souks, sampling the tasty local food, two afternoons helping at our partner Deaf association and taking time to relax in beautiful gardens and rooftop cafes.
We arrange our trips in spring and autumn when Morocco is usually warm and sunny.
Next trip:
Thursday 11th April to Sunday 14th April 2024
Contact us now for information or click here to book your place.
 Trip Highlights
Experience one of North Africa's most vibrant and colourful cultures
Stay in a traditional riad
Help at a small Deaf association in Marrakesh – one of only two deaf education centres in the city 
Explore myriad souks 
Visit the famous Jardin Majorelles
Eat exotic tajines and drink fresh mint tea 
Glimpse rural Moroccan life on a trip out of Marrakesh
See Marrakesh's famous La Koutoubia mosque 
Dinner in the desert while watching the sunset over the Atlas mountains 
Optional camel ride or quad bike ride in the desert (not included) 
Daily activities
We've carefully planned our Morocco trip so you will get to visit the must see sights of Marrakesh and also spend two afternoons at a local Deaf association.
This means you have an enjoyable long-weekend break in an exciting destination and get to connect with local deaf culture at the same time. 
Accommodation
Normally in a "riad" with the rest of our group and VoluntEars staff. A riad is a traditional Moroccan house built around a central courtyard.
There is often a walled flat-roof where you can look out over Marrakesh and watch the sunset in the evenings.
Food
3 meals a day.
Food is either served at our accommodation or in local restaurants. 
We make sure you get to try a variety of tasty local dishes. We know all the places you will eat so we know the food is safe and good quality. 
Tell us if you have any dietary requirements.
BSL Communicator on every trip
Trip leader from our UK office
Airport transfers on arrival and departure
Comprehensive orientation in Morocco
All local transport; not flights
We use private taxis and minibuses for the Marrakesh airport pick-up and drop-off and to visit the Deaf association. 
Our friendly VoluntEars staff will be waiting to collect you on arrival and they'll accompany you on all journeys in Morocco. 
Souq walking tour
Souqs are one of Marrakesh's defining features. They are a maze of twisty narrow streets crammed full of market traders and shops selling everything from fine tapestries, dyed wool and bright coloured spices to hand painted tagines and leather goods.
We will make sure you see the best souqs, we can help you negotiate prices and make sure you don't get lost!
Visit Jardin Majorelle
Take time out from the hustle and bustle of the medina in this serene garden.
Walk between bamboo groves, palm trees and cactus gardens, see the ornamental ponds and zany blue painted pavilion which was gifted to Marrakesh by Yves Saint Laurent in 1966. 
Visit the countryside outside Marrakesh
We love Marrakesh but it's also nice to leave the city and get a glimpse of life outside.
One afternoon we'll drive into the countryside so you can see life outside the medina for yourself.
Optional camel ride (200 Dirhams) and quad bike drive (400 Dirhams) in the countryside for those who want to work up an appetite for dinner! 
Atlas mountains sunset dinner
On your last evening we'll have dinner outside Marrakesh while (hopefully!) watching a beautiful sunset over the Atlas mountains in the distance. 
Pre-trip meeting in Sussex, UK
Meet other volunteers and our staff before your trip.
If you can't attend the meeting we will email all the information to you and can arrange a video call to explain everything and answer your questions.
Certificate of completion
References
Day 1 - Thursday
Arrive in Morocco!
You will fly to Marrakesh where VoluntEars staff will meet you at the main international airport on arrival. We will take you back to our centrally located "riad", a traditional Moroccan house built around a central courtyard.
You can unpack, meet the rest of our group and relax. We will do the orientation this evening so you know what to expect over the next few days and we'll have dinner in a local restaurant, a short walk from our riad.
Day 2 - Friday
Our day will start with a breakfast of freshly cooked bread with home made fig jam, fresh orange juice and pastries, fruit, locally ground coffee or mint tea.
We will spend the morning on a walking tour exploring the souks of the old Medina. The sights and smells are like nowhere else on earth! Take in the smell of fresh spices mingling with grilling meat, see shafts of sunlight striking through the palm roofing and highlighting beautiful textiles. Everything is for sale at the right price – VoluntEars staff are on hand to help with haggling if you want.
After lunch we'll spend the afternoon at a Deaf association which provides education for deaf Moroccan students. You can help with classroom-based teaching or get involved with art or sports. Share your ideas for activities and feel free to bring games, sports equipment and other activities to use and leave with them.
Dinner is provided at a local restaurant near our riad.
Day 3 - Saturday
This morning we'll see the famous La Koutoubia mosque and then explore Jardin Marjorelle which was gifted to Marrakesh by Yves Saint Laurent in 1966. Bright blue and yellow painted buildings mix with 300 varieties of plants from 5 continents. You don't have to be into gardens to be impressed with this place! And there's a good cafe to sit down and relax.
Later this afternoon we'll leave the city behind us and head out into the countryside where you'll catch a glimpse of rural Moroccan life and have dinner watching the sunset over the Atlas mountains in the distance. A great end to the day!
Day 4 - Sunday
This morning we'll spend some more time with the children at the Deaf association. Our time with local D/deaf people helps everyone involved gain a better understanding of each other's cultures, ways of life, challenges and differences in deaf education.
After lunch you'll have some free time to mooch around the souks and buy souvenirs before we return to the airport for your flight back home.
Dates & Prices
2024
Dates:
Thursday 11th April to Sunday 14th April 2024
Price: £695 / $945
Need help raising money? Check out our Fundraising tips and ideas.
Other trips available in Morocco
"It's been great. The people who run VoluntEars trips are really nice and we've done so much I can't even remember it all!"
"Join today because it's brilliant! It's a once in a lifetime opportunity."
Ashley Hill

"I had the opportunity to help fellow D/deaf people"
Tom Gerrard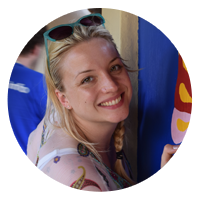 "The best thing I've done in years"
Blanche Coy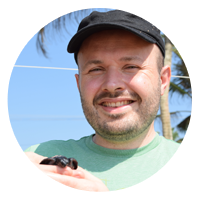 "Valuable, memorable, fun, productive, amazing!" 
David Hutchinson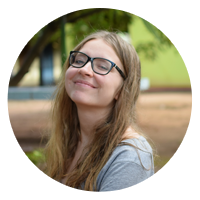 "A specialised organisation that guarantees the right support - all my worries vanished"
Karolina Pakenaite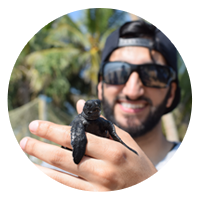 "Working with turtles was the best thing!"
Omar Mahmood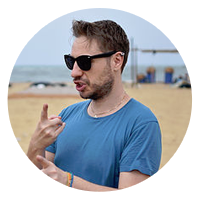 "Enlightening, rewarding, motivating, amazing"
Keegan Hall-Browne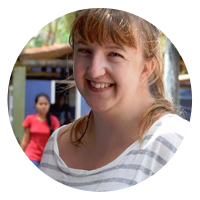 "I grew in confidence and enjoyed helping people"
Jodie Winter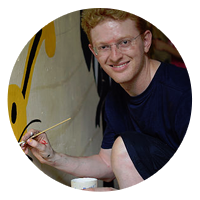 "I really enjoyed designing and painting the wall mural in one of the classrooms. It was a fantastic experience."
Stephan Pretorius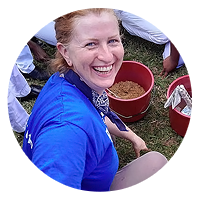 "An enriching and fulfilling experience with an opportunity to embrace Sri Lanka's way of life and culture"
Katherine O'Grady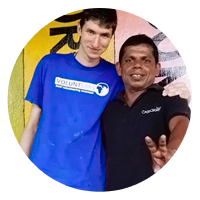 "It's changed my way of thinking and seeing things. Join today because it's brilliant! It's a once in a lifetime opportunity"
Ashley Hill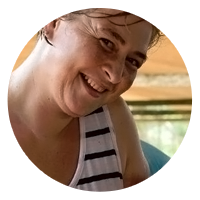 "There was an equal balance of work, group activities and sightseeing"
Clair Murray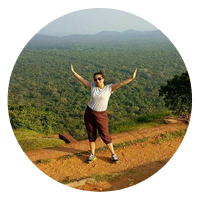 "I knew this was a perfect opportunity"
Saira Shabbir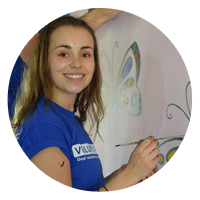 "I made new friends and was able to use my sign language skills"
Stephanie Denison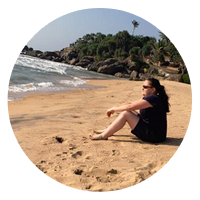 "I can't fault VoluntEars - they run everything smoothly from beginning to end"
Kimberley Bruce
Ask us a question
Need more information? Complete the form below and we will quickly reply with the answer.